| | |
| --- | --- |
| Girl on Girl Cream Pie Sex Scene | |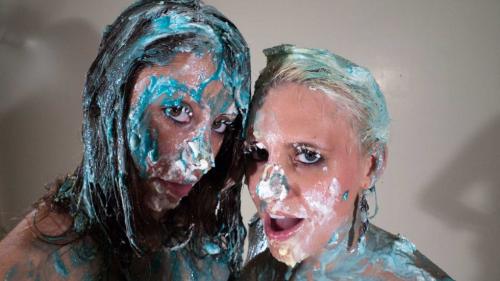 Starring these models:
"You'll wanna cream all over these two girsl!"
| | |
| --- | --- |
| File count: | 2 |
| Total size: | 640.19 MB |
| Runtime: | 20 mins, 45 secs |
| Released: | 11/15/12 |
| Produced: | 2012 |
| Reviews: | 1 |
| Views: | 13743 |
| Scene ID: | 5218 |
| Producer: | SploshMe |

$9.98 60% off!

$3.99
Audrina Skye and Jacky Joy are all dressed up. Audrina is wearing a bright green top with light blue denim shorts and Jacky Joy, and her great D-cup titties, are held in by a bright pink top.

Jacky Joy willingly unzips her dark blue jean shorts to reveal her pink dotted panties and accept an ice cold cream pie right on her clean shaved snatch. The bright pink pie fills up her panties and Jacky Joy buttons them closed, really smashing the mess into her cunt.

Lots of great camera work really puts you in the action.

Next Audrina has her panties opened and takes her share of the pie onto her silky smooth pussy. She buttons her shorts back up, too.

As they get down to business, Jacky Joy asks you to get your cock out, then she kisses Audrina while encouraging you to jerk off some more.

A couple near-miss pie throws gets Jacky to take her top off and show her titties, then she undresses Audrina.

Pies cover their bodies and the girls take it upon themselves to work it into their skin, rubbing each other all over while asking you to keep stroking it.

Lots of girl-girl action and hand rubbing give you plenty of time to work yourself up while watching with no rushing whatsoever.

After much girl-girl action, Jacky Joy lands a pie right on Audrina's face, square on the face. Jacky Joy says, "Give it to me," and Audrina smooshes a pie right into her face. "You're suffocating me!"

Lots of titty rubbing and messiness, then Jacky Joy bends over and takes a dark blue glass cock into her tight pussy. You see the dildo pop in that tight cunt and pop out as she fucks herself and moans loudly. That camera is right in her crack.

Count-down: Jacky counts you down to from 10 to 1 so you can cum with her!

They put their heads together for a final pie that hits them both with the same pie.

Jacky thanks you before the scene ends.
Includes these files:
audrina-jacky-pie.wmv

1280x720

3,937 Kbps

584.49 MB

20.8 minutes
audrinacreampie-143-images.zip

1600x900

143 photos

55.7 MB

sizes may vary
Reviews from Paying Customers:
"Great interaction video."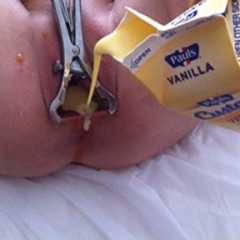 These too work great together. Just like the other sets with Jacky and Audrina, this scene invites you in and makes you feel as if they are telling you what to do.
MessyOZ,

11/20/12
edit review
Free picture gallery:

Report