"Mmm. Chocolate pouring all over Megan, never looked soooo good!"
delete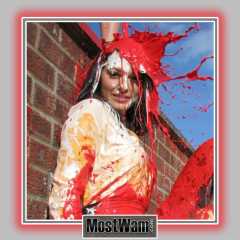 This was one of the first videos of Megan i ever owened. Due to HD failure, i lost it so bought it again today, i absolutely love the start of this video, as my previous description for another Megan video said, the way it was done was just right, none of that all over her face stuff, but good old fashioned on Megan's head, which made the gunging of her with the chocolate so much more enjoyable because i could actually see her facial expressions. Good slow coverage of Megan's hair getting gunged too. this has been and always will be one of my personal favourites. 100% worth buying if you love Megan, love Chocolate, and put the two together ;)
HCW7,

7/21/14
"Very hot girl in chocolate = hot chocolate?"
delete
NIcely done! She has a great body, and wears the chocolate nicely. I like the sitting down part most, as she gets more all over her body which is not as easy while standing. Quality is great, sharp images, well lit, etc. but most importantly, the model is very pretty and has a great body to get messed up!
,

12/16/09