| | |
| --- | --- |
| Rough WAM Gunging of Blonde Star | |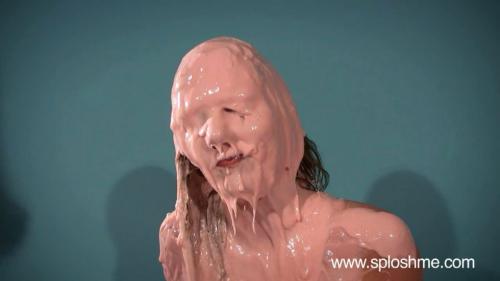 Starring the following model:
"See our super star get what she has coming to her!"
| | |
| --- | --- |
| File count: | 2 |
| Total size: | 307.19 MB |
| Runtime: | 13 mins, 42 secs |
| Released: | 10/04/12 |
| Views: | 13030 |
| Scene ID: | 4975 |
| Producer: | SploshMe |

$9.95 60% off!

$3.98
Blonde sexy model Star faces a mean WAM perpetrator in this very erotic, rough and sexy gunge spectacular. Wearing a red corset top, black skirt and red polka dot shoes with white heels, Star starts off by playfully flirting with you, hoping she can tease her way out of her WAM punishment. A large vat of pink colored cake batter awaits her, though, despite her pleas and hopeless flinching. The messiness of this scene last nearly 14 minutes, so we do not rush through any of the messiness. There will be plenty of time for you to "enjoy" this video as thin little Star goes from perfectly clean t thoroughly trashed. After a long time of drizzling and teasing Star, she finally gets fully nude. Foot fetish fans will also enjoy when we mess her feet up in the shoes, remove a shoe from her, mess her feet up even more, then put the shoe back on her with the cake batter gunge oozing around her foot. Her perky tits are simply magnificent, but they are soon covered in pink mess. Star curls into a fetal position on the ground, trying to protect herself from future messing, but we take the chance to whip handful after handful onto her bare exposed ass, each one landing with a satisfying slap. Total head coverage ends the scene as, at last, the teasing comes to an end and Star finds herself thoroughly coated in the gunge, gasping for air and unable to open her eyes.

We make sure she stays put fully covered until she can't stand it any more. Star will be at the top of your list with this scene. Brightly-lit with professional lighting. Shot in HD.

From the makers of SploshMe.com.

Report