| | |
| --- | --- |
| Star Gets Pied While Masturbating | |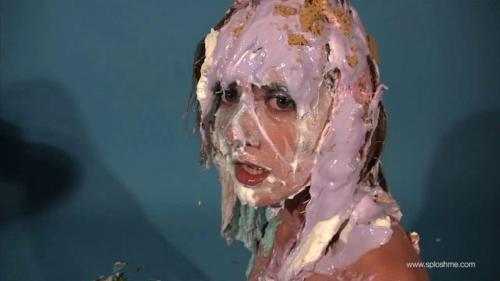 Starring the following model:
"Close up pieing video of sexy Star's interrupted masturbation"
| | |
| --- | --- |
| File count: | 2 |
| Total size: | 624.08 MB |
| Runtime: | 16 mins, 18 secs |
| Released: | 3/28/14 |
| Produced: | 2013 |
| Views: | 14194 |
| Scene ID: | 9770 |
| Producer: | SploshMe |

$9.97 60% off!

$3.99
Sexy blonde all-natural Star poses for us in a one-piece shiny metallic dress and blue satin high heels. Plenty of nice long slow camera work to let you enjoy all of her sexy body. She stares into the camera and we see her sexy blue eyes.

Lots of fantastic shots of her blue satin high heel shoes.

Star sits down, spreads her legs and pulls her panties to the side.

Star reaches for a clear glass dildo that has ridges and raised colored bumps along it.

The camera hovers inches from her pussy as she works the dildo in and out, leaving nothing to the imagination as you see Star's sexy pussy splayed open before you.

With eyes closed, Star is really feeling the glass toy working in her cunt.

The camera hints at the cream pies lying in wait off to the side of her.

A cream pie is slammed onto her face from up high, jolting her from her dildo pussy fucking.

Another pie is thrown at her, then another catches her right in the face as she tries to hide.

Star grabs at her dress and rips it off, revealing her clean bare breasts, still clean.

her face is totally trashed and the camera lingers right in front of her face.

Another brightly colored pie is slowly smooshed right into her face and up onto her face, leaving her no place to hide from the mess.

Plenty of great reaction shots with the camera pressed right in front of her.

That's when she realizes she's so cold from the cold pies.

She strips out of the dress, leaving just her blue panties and blue shoes on.

We linger on her messy feet and shoes.

Then we take the rest of her in.

Another pie is slammed right onto her tits and erect pointed nipples.

Star doesn't know what to do.

More shots of her shoes now stepping in a good sized pile of used cream pie on the floor.

Another pie hits her in the face, covering her eyes. She almost slips and nearly falls, but catches herself. Greedily, we take in all of her messy body as Star stands there for us to watch.

She turns around so we can see her ass and the thong firmly wedged up her ass crack.

Slam! A pie hits her ass with a firm wallop and she stays bent over and messes it around with her hands.

Star turns back around facing us, and proceeds to lower her panties on the shaven snatch with the sexy patch of blonde hair above the clit.

She works some cream pie into the hairy patch before dropping her panties to her feet.

Those sexy blue shoes, now ruined, are taken off one by one and she stands there in the spent cream pie filling at her feet, letting it soak up between her toes and size 11 feet.

She sits her ass and pussy down into the pile of used pie.

Then a final pie is thrown at her face, catching her off guard! She struggles to get the crust and filling out of her mouth and eyes.

She stands to clean up and uses her hands to slide the goop off her body.

Star wrings out her hair, squeezing the pie gunk out of her sexy hair.

Fade to black.
Includes these files:
star-pied-sploshme-com.zip

1600x1067

130 photos

33.33 MB

sizes may vary
star_pied.wmv

1280x720

5,064 Kbps

590.75 MB

16.3 minutes

Report