| | |
| --- | --- |
| That's Cold! Ice Cream Torture | |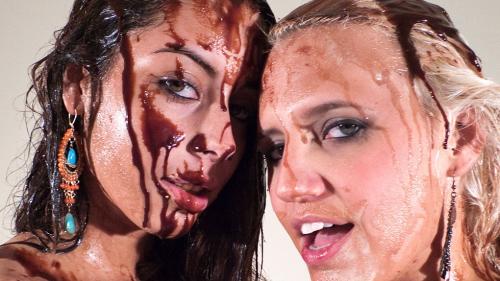 Starring these models:
"Girls can be cruel--especially sploshme.com's Jacky Joy"
| | |
| --- | --- |
| File count: | 2 |
| Total size: | 389.03 MB |
| Runtime: | 17 mins, 20 secs |
| Released: | 2/21/10 |
| Produced: | 2010 |
| Views: | 21246 |
| Scene ID: | 1338 |

$13.99 60% off!

$5.60
This amazing HD 1280x720 video has a running time of 17:20!

Girls can be cruel, they say, and nobody proves that more than Jacky Joy. Wearing a sexy black dress and yellow high heels, Jacky Joy turns her affections on Audrina Skye, who is wearing a short denim skirt and barely-there top. Jacky open-mouth kisses Audrina, who resists her temptations, clutching her top closed. But Jacky can't help herself and rips open Audrina's top. Jacky feels Audrina up, licking her nipples and sucking on them.

Then Jacky grabs a large mixing bowl filled with ice cream and topped with whipped cream.

It's hard to describe just how cold Audrina was as she suffered through this shoot. Jacky makes Audrina stand up, then grabs a handful of ice cream and shoves it down the back of her skirt. Audrina really starts suffering here and delivers awesome reactions.

Her legs tremble from the cold.

Audrina takes over and gets even with Jacky, who is actually very willing to let sexy Audrina do whatever she wants.

Absolutely fantastic reactions from Jacky as the cold hits her tits for the first time, stuffed deep inside that black dress. "You like that? Ice cream all over me? It's so cold. Put it down there. Fill my tits up!" Jacky begs.

Jacky strips naked, taking off her dress and panties, before grabbing a banana and shoving it deep inside her pussy. It makes a great, satisfying "pop" each time it pops out. "Are you jerking your cock off for me?" she asks you.

"Take a look at that. Look close. Just for you," as the camera is just inches from her pussy. "Stroke that cock for me." "Do you want to cum with me?" she asks. Then she counts down from 10 so that you cum with her.

Jacky peels and eats the banana that she just fucked, even giving some to Audrina.

A chocolate syrup fight ensues between the girls, squirting on the tits and hair, ending with them rubbing their bodies up against each other.