| | |
| --- | --- |
| Toga! D-cup Skinny Model Nude W/ Colored Oatmeal | |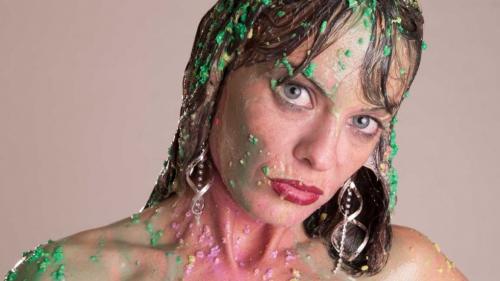 Starring the following model:
"Bonus photo packs Toga! Toga! Toga! Why wan't college like this for me?"
| | |
| --- | --- |
| File count: | 3 |
| Total size: | 435.58 MB |
| Runtime: | 11 mins, 9 secs |
| Released: | 11/15/12 |
| Rating: | |
| Views: | 9014 |
| Scene ID: | 5222 |
| Producer: | SploshMe |

$9.98 60% off!

$3.99
Absolutely gorgeous milf with D-cup bolt-ons will always manage to make your heart skip a beat in this expertly edited video.

Wearing a sexy toga-style dress, Megan models for you, shows you hear clean shaved pussy and then proceeds to let us smear hear damn hot body with loads of brightly colored runny oatmeal. It starts with green oatmeal scooped into her top, before she rather willingly drops her top to really smear it around.

It's almost a shame to mess up her perfect hair and oh-so-fine makeup, but we plow right ahead.

What a great feeling it was to mess up this otherwise perfect specimen of female beauty.

She jokes and laughs quietly as we have our way with her.

Megan helps by smearing it all over herself in a sexy way.

"Put you head back... back more!" we command and she takes bright pink oatmeal goop right on her face.

She mockingly says "Oh I love when you do that."

"Put your head!" we bark at her again, then dowsing her with even more of a river of pink.

Shoes! Her sexy shoes--strappy silver high heels--get good camera time with closeups of her toes.

Then she stand and strips off her entire dress fully nude for our sick pleasure!

She sits down on the floor, flirts with the camera, messing around in the puddle of pink and green oatmeal on the floor. Again, more foot and shoe video with her rubbing the oatmeal until it covers her toes completely.

More green oatmeal mess is poured on her with her head tilted back to take the full brunt of it on her face.

Real up-close camera work lets you see her eyes just inches from your face.

Then Megan rises so you can see the mess slowly pour and smear down her 6-foot tall frame.

An absolutely wonderful ass shot shows stringy globs of mess hanging from her super sloppy pussy. (Can you say "freeze frame"?)

She had no idea the camera was right up her cooch.

bonus: Two high-res photo sets: posed shots as well as high-res action shots taken during the shoot with a high-quality Leica.
Includes these files:
megan-nude-toga.wmv

1280x720

3,940 Kbps

314.41 MB

11.2 minutes
oatmeal-toga-candid.zip

2000x1500

61 photos

72.66 MB

sizes may vary
oatmeal-toga.zip

2000x1333

110 photos

48.51 MB

sizes may vary
Free picture gallery:

Report